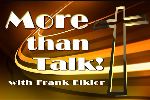 Coming soon - the More Than Talk Radio Library
This will be a library of More Than Talk audio for your own study and encouragement and to share with others. Material is copyrighted by Shalom International Outreach but you are welcome to play the material, without editing, for your own or group study. Programs may not be copied, sold or distributed.
God bless, and let us hear from you! Leave a question or comment here. Thank you!
Frank and the Shalom Team