Welcome to the Shalom International Outreach Media Center
This center is designed to help you put feet to your faith in Jesus Christ and to help God's Word resonate vibrantly in and through your life (2 Timothy 3:15-17)! Featured here is a growing archive of teaching videos, audio recordings and transcripts featuring the Bible teaching of Frank Eiklor. Content herein is copyrighted by Shalom International Outreach but you are welcome to play, share and cite the materials, without editing, for your own or group study. Content may not be copied, sold or distributed.
God bless, and tell us you're watching and how God is working in your life as you do. Click here to leave a comment! Thank you!
The Shalom Team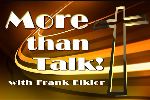 More Than Talk, with Frank Eiklor - reaching 192 countries on
HisChannel.com TV!
This week's program
Archived Programs
Miss a More Than Talk telecast? Catch programs you miss,
share a program with others or review at our program library!

Subscribe to our YouTube channel
Radio
Read/download transcripts or outlines of Frank Eiklor's messages on More Than Talk!
Coming soon, the Shalom International Outreach Audio archive!